IWK FP 8 TUBE FILLER
READY FOR
YOUR FUTURE.
IWK FP 8 Tube FIller
Ready for your future.
YOUR IWK FP 8 IS READY TO GO!
Are you looking for a reliable tube filling machine that meets your exact requirements and will offer your company optimal production support in the future? Then the IWK FP 8 is your go-to choice! It is immediately ready to use, easy to handle and characterized by durability and flexibility. It can be used to process plastic, laminate and metal tubes as well as round and oval shapes. You can achieve your ideal machine configuration in just a few simple steps. Let's get started:
 LIVE-DEMO
SIMPLE TUBE FILLING, PERFECTED.
PRODUCT INFORMATION
ANDREAS SIEGELE, PRODUCT MANAGER, BRIEFLY ANSWERS A FEW QUESTIONS.
Why is the IWK FP 8 so quick to install?
Basically, the machine is delivered ready to go. Plug it in, connect the air supply and water circuit, and you're ready to go. The rollers underneath the machine allow it to be positioned quickly, exactly where you want it. 
How does the IWK FP 8 differ from other machines?
This tube filler is incredibly easy to use. To start with, the intuitive control panel is clearly set out. In terms of the filling process itself, everything runs smoothly in the literal sense of the word, as a servo ensures consistent filling quantities. Processes from cleaning to format changeover take less than five minutes. 
Who is the IWK FP 8 best suited for?
In short, it is most suitable for users with low production volumes or those who produce small batches, but it is also ideal for economical laboratory operation. The IWK FP 8 can also be upgraded to fully automatic operation.
CONFIGURATOR
CREATE YOUR VERY OWN IWK FP 8 WITH EASE.
Whether plastic, laminate or metal tubes, as a specialist, we are very familiar with the specific requirements for a tube filler. By answering just a few questions, you can find the right machine configuration for you, whether you operate in the food, pharmaceutical or cosmetics industry:
 FEATURES
WHAT THE IWK FP 8 CAN DO.
This photo gallery will help you to find out more about the technological nuances of the IWK FP 8 – in the plastic, laminate and metal configurations in each case. Happy browsing!
ABOUT US
WITH IWK, YOU CAN DEPEND ON THE VERY BEST IN TECHNOLOGY.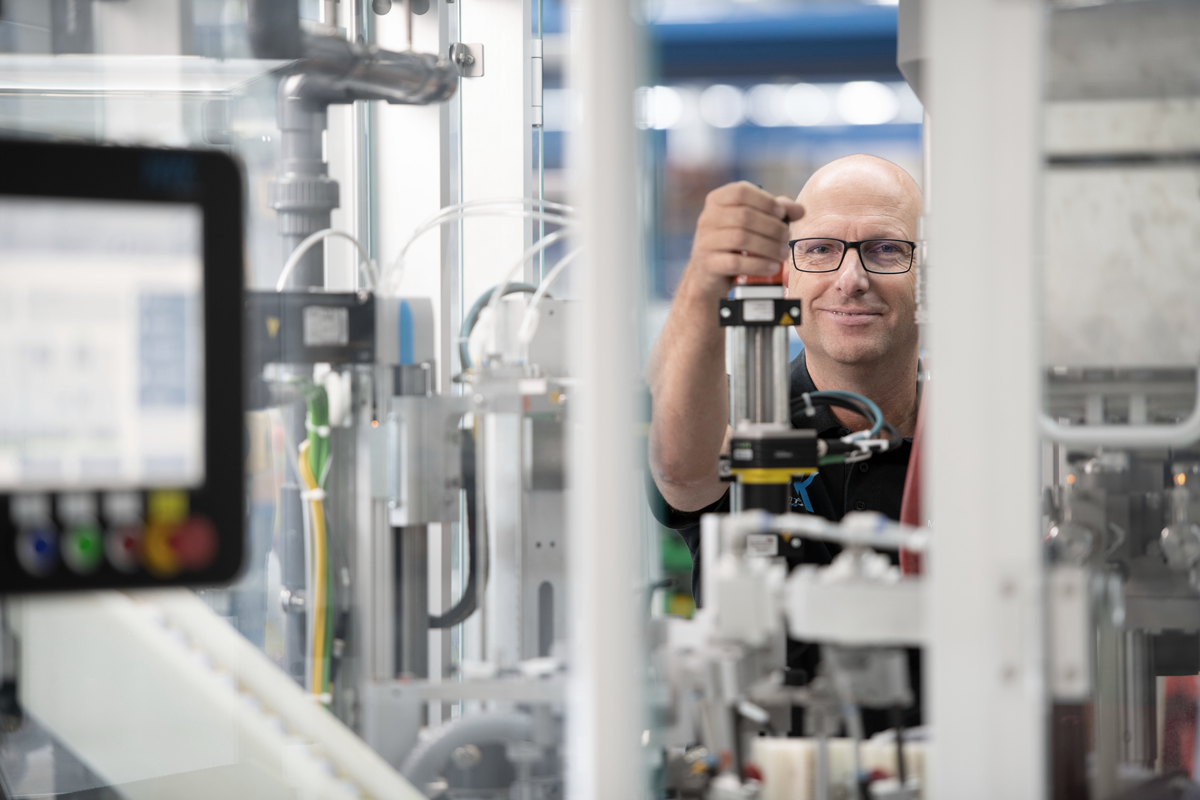 In opting for the IWK FP 8, you will not only be able to rely on a dependable tube filling machine, but also on the mass of expertise we have gained over the course of 125 years. Our machines set standards in terms of performance and reliability. In all we do, we aim to support the productivity of our customers all over the world in the best possible way. Dive into the world of IWK.
FIND YOUR PERSONAL IWK CONTACT PERSON WITH JUST ONE CLICK.
WE'RE HERE FOR YOU – WORLDWIDE.